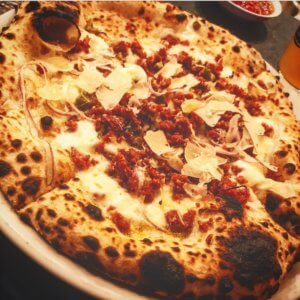 Piatto Neapolitan Pizzeria is located at 1706 E Douglas Avenue in Wichita, Kansas. The owners of this restaurant studied the art of making Neapolitan pizza five thousand miles away in Naples, Italy.
To be able to make a true Neapolitan pizza, Piatto Neapolitan Pizzera hired a third-generation oven builder in Italy to construct their unique wood fired oven. It is a brick-built oven that weights over six thousand pounds. The oven is heated to 850-900 degrees to cook the pizza in sixty to ninety seconds.
The flour that is used is a fine 00 flour that is fermented for twenty-four hours. This gives the crust a soft and pliable texture with an incredible taste. They use only fresh mozzarella cheese that is submerged in brine until the day they use it. The tomatoes are grown in California and combined with organic basil and sea salt.
Authentic Neapolitan pizza places are popping all over the United States, but Piatto Neapolitan Pizzeria was the first in Wichita, Kansas. They have a strong four-point-six-star rating on the world wide web with over four hundred reviews.
Located at 8815 W 13th Street in Wichita, Kansas is Wichita Brewing Company & Pizzeria. It is the dream of two friends, Jeremy Horn and Greg Gifford. They decided back in 2009 that they wanted to open a brewery and pizza restaurant like no other in Wichita.
They started brewing beer at home then moved to a larger facility. When they found the perfect recipe, they opened the doors to the Wichita Brewing Company & Pizzeria in 2011 with only five beers on tap. As their knowledge grew on making beer, so did their taps expand eventually to seventeen beers. They even opened a second brewery and restaurant in 2015.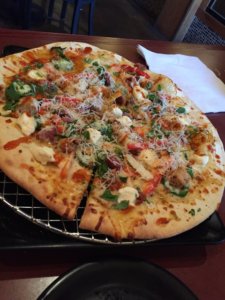 Their popularity grew and they eventually opened up an eighteen thousand square foot warehouse so they could brew more beer. Their success gave them the ability to keg, can and distribute their brews not only in Kansas but Wyoming, Oklahoma and Missouri as well.
Jeremy and Greg have come a long way from their self-built brewing systems in their garage. They have over a four- and one-half-star rating with well over four hundred reviews online.
Brothers, Tim and Pat Knolla, are the owners of Knolla's Pizza that is located at Central and Rock in Wichita Kansas. They were working in a large pizza corporation in the 70's and decided they wanted to go out on their own.
They decided they wanted to bring true New York style pizza to Wichita, so they packed their bags and headed to New York City. The people they studied under were Sicilian brothers whose pizza was considered some of the best in the city.
They agreed to not open a pizza restaurant within thirty blocks of the Sicilian brothers, so they opened their first restaurant in Florida. From there they expanded Knolla's Pizza into Wichita where they have four locations.
They have five hundred and forty-nine positive posts on the internet. These posts have earned them a four-and-one-half-star rating.
Serving the greater Wichita metro area for years is Wichita Hood Cleaning Pros. They have technicians that are trained to the National Fire Protection codes and standards. They are open 24/7 to do restaurant hood cleaning for commercial kitchens. This keeps the restaurant from having to close down and loose business when the hood cleaning is done.